Cucumbers have a mild diuretic effect so adding some to your smoothies can help reduce tired puffy eyes. Because they have a high water content, they are naturally hydrating too.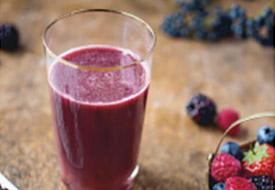 Their skin is high in silica and chlorophyll, which is very soothing to the skin. They help improve the complexion and the health of the skin.
2" cucumber
1/2 red apple
Handful mixed berries (fresh or frozen)
5 almonds
200ml coconut water
1 tsp ground flaxseeds
Mix all the ingredients in a jug or Nutribullet and blend until smooth.