Fabulous post-workout recipe for people looking to lose weight.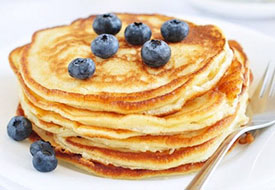 These pancakes are a good source of energy to replenish glucose following a workout session. The protein will also help muscle tissue repair and recovery too.
1 banana, mashed
2 eggs
1 scoop whey protein
½ tsp coconut oil
Handful blueberries
Agave nectar
Mix the eggs together then combine with the protein and banana.
Place a pan over medium heat. Grease the pan with the oil. Once it's hot, add a large spoonful of the pancake mixture to the pan, about 3-5 inches wide.
Once the pancakes begin to bubble, flip them. Cook for about 1 minute each side, depending how hot the pan is.
Re-grease the pan, as needed.