Not all sugar is bad for you! Sugar is a natural source of carbohydrate found in a host of different foods, from the lactose in milk to the fructose in fruit and honey.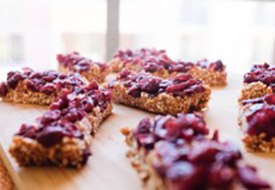 We need some sugar in our diets to supply ready energy to fuel our muscles and keep our brains active. And sometimes when our muscles are fatigued, we need a hit of sugar in the healthiest of ways. This recipe offers a combination of fructose and glucose to help restore glycogen levels post workout.
8 servings
60g almond butter
150g honey
85g rolled oats, toasted
60g rice cereal (Rice Krispies are fine)
100g quinoa, (pre-cooked)
50g almonds
40g dried cranberries, chopped
Pinch sea salt
Grease an 8-inch square pan with cooking spray and line with parchment paper. In a small saucepan, heat the almond butter and honey together over a low heat until thoroughly melted.
In a medium bowl, combine oats, cereal, pre-cooked quinoa , almonds, dried cranberries, and sea salt. Pour the honey mixture into the dry mixture and stir until well-combined. Transfer into the pan.
Wet your hands and press the cereal bar mixture down until it's flat and even. Let it set in the refrigerator for at least an hour.
Remove the mixture from the pan—it should be a solid sheet—and cut into 2-by-1-inch bars.