Get fighting fit
Boosting your immune system through nutrition and diet can be a powerful aid to reducing the risk of disease, coughs, colds and flu.
Micronutrients are vitamins and minerals that the body needs in very small quantities and are key to ensuring your body works optimally when the immune system may be compromised by illness.
Micronutrients
The micronutrients listed below all have important influences on the immune system:
Zinc
Selenium
Iron
Copper
Vitamins A,C,E
Vitamin B6
Folic acid
All micronutrients can be found at Holland & Barrett.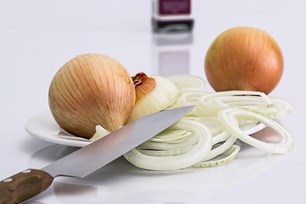 Know your onions
Onions contain a compound called Quercetin which has powerful immune boosting properties.
Researchers from Clemson University found that stress increased the susceptibility of mice to contract the flu virus, and quercetin negated this effect.
Quercetin is behind the onion's ability to offer antibacterial and anti-viral properties to the body and therefore it has long provided a natural remedy for coughs, colds and flu.
For an immune boosting onion soup recipe, please click here.